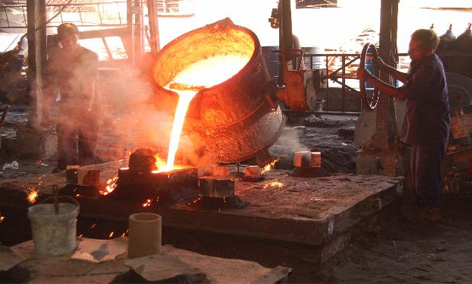 Diana Mining Equipments was setup during 1982 in Ludhiana, Punjab. By Sh. Inderjit Sachdev & Mr. Rakesh Sachdev we have created a path dedicated to producing world class industrial castings.
Since its inception about 27 years ago, Diana Mining Equipments has continually grown to become one of the largest and leading foundry of high quality Cast Iron Ingot Mould (Singlet & Duplex), Bottom Plate, Centre column, Crusher Rolls, Slag pot, and other Specialized C.I. Castings of various types as per order used in Integrated Steel Plants, Mini Steel Plants, Rolling Mills, Ferro Alloy Plants, etc.
We cater to the domestic market in the field of industrial, Decorative castings & heavy castings such as Bottom Plate, Counterweight and Ingot Moulds. We also accept challenges to cast as per the design and specifications provided by the client. All this has been achieved by a dedicated work force and personnel staff trained to make use of the latest technology in a conductive environment.
Steadily the company is marching towards export. The manufacturing unit is fully equipped with melting facility, cranes, metal hoppers, chemical and physical laboratory.
Diana Mining Equipments also has a versatile pattern shop with some of the most skilled pattern makers that can make even the most intricate patterns according to the customers' specifications and drawings. Our moulding and casting shops can make a variety of castings from 1 kg to 15.000 kgs. a piece. We have our own modern machine shop to give a perfect finish to are products.